---
Interested in featuring our website, patterns or yarn? Please get in touch! We'd love to hear from you.
In print
Knitting Magazine August 2019
(c) GMC Productions
Issue 196 features a detailed review of our Speckled Yarn Dyeing Kit.
Knitting Magazine May 2019
In Issue 193, It's a Stitch Up has a 1/2 page feature entitled My Yarn Shop and Dynamite DK in 'Shinjuku' is featured in yarn reviews.
Knitting Magazine January 2019
Our Yarn Dyeing Kits are featured in Knitting Magazine's 'Creating differently' Issue 189 feature
Knit Today's 2016 calendar
Our Cerys Hexagon Blanket was chosen by Knit Today for the august page of their 2016 calendar, given away with the December 2015 issue of the magazine.
LoveKnitting 2016 winter catalogue
Our Nordic ski sweater hot water bottle cover pattern was featured in LoveKnitting's 2016 winter catalogue (published January 2016), as part of their Scandinavian Design collection.
Oh Comely magazine advert for moo.com 2012
It's a Stitch Up's branding and imagery we're chosen for this advert aimed at small, creative businesses published in Oh Comely magazine.
Knit Today March 2010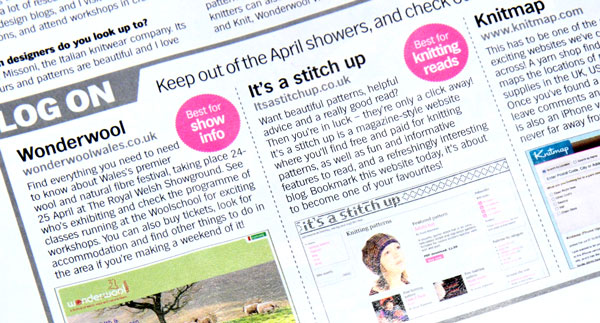 It's A Stitch Up featured in Knit Today magazine March 2010 (issue 45).
Want beautiful patterns, helpful advice and a really good read? Then you're in luck…It's a Stitch Up is a magazine-stylewebsite where you'll find free and paid for knitting patterns, as well as fun and informative features to read, and a refreshingly interesting blog. Bookmark this website today, it's about the become one of your favourites!
On the web
---